Wouldn't you want to live within walking distance to some of the best shopping, dining and schools in the Charlotte?
The gorgeous Barclay Downs neighborhood fits the bill on those points and many more. The family-friendly community is home to the Barclay Downs Swim & Racquet Club and has an active homeowners association for neighborhood events. One important issue for the HOA is SouthPark's growth and its potential impact – both positive and negative – on the neighborhood.
With the area growing by leaps and bounds, Barclay Downs is situated on the outskirts of some pretty incredible development. Plans are already under way for a mixed-use development at the site of The Colony apartments, which is one of the projects in which the Barclay Downs HOA is very active.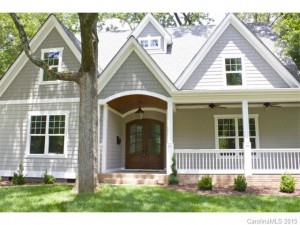 Barclay Downs residents are within walking distance to SouthPark Mall and its surrounding shops and restaurants as well as Myers Park High School, one of city's top-rated schools.
The neighborhood has approximately 450 homes that range from starter homes to luxury million-dollar homes and offers potential residents a coveted location without the higher price points of nearby Foxcroft and SouthPark.
Homes in Barclay Downs are located east and west of central Barclay Downs Drive, which connects Fairview Road near the mall to Runnymede Lane.
The neighborhood is a desirable one that sells well. Many of the homes are older ranches and have been renovated. There are also some newer construction homes in the neighborhood.
An average of nearly 3 homes sold per month in the neighborhood during the last 12 months for an average sales price of $535,145. The average price per square foot for the last year is $216.
Currently, there are 8 homes on the market in Barclay Downs, which represents a little more than 2.5 months inventory. Nearby Myers Park has more than 6 months of inventory with 85 homes on the market.
Charlotte and Mecklenburg County have 3.7 and 3.8 months of inventory, respectively.
All the homes on the market in Barclay Downs, except 1 built in 1972, were built in the 1950s and 1960s. Three of the homes are under contract as of Feb. 28.
The highest sales price during the last 12 months was $920,000 for a renovated 4 bedroom, 4 bathroom home of 3,350 square feet.
The lowest sales price was $285,000 for an unrenovated 3-bedroom home of 1,950 square feet.
The neighborhood is zoned for Selwyn Elementary, Alexander Graham Middle School and Myers Park High School.