If you are looking for luxury homes within 15 minutes of Uptown Charlotte, Stonecroft is the place for you. This prestigious neighborhood of 120 home-sites offers a variety of European architecture on generous lots, some of which are in Carmel Country Club. Homes here range from approximately 4,000 to almost 10,000 square feet. Many homes also include outdoor living areas including pools, spas, outdoor kitchens and more.
The interiors of the homes can include many features such as gourmet kitchens, home theaters, trey ceilings, architectural beams, stone fireplaces and spa bathrooms. Most have at least four bedrooms and four or more baths.
Beautiful mature landscaping and tree lined streets lead you to the entrance of the neighborhood. Located off Colony Road near Rea Road, Stonecroft is convenient to world class shopping, spa services and dining at SouthPark Mall, the Arboretum and Phillips Place.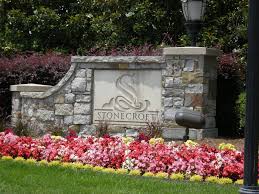 For golfing and more a short drive away are Piper Glen TPC golf course, Cedarwood Country Club, Raintree Country Club and Myers Park Country Club. This in addition to Carmel Country Club in the neighborhood.
Stonecroft is in the perfect location to be close to everything. Just 10 miles away is Uptown Charlotte and 14 miles to Charlotte Douglas International Airport.
The Rea family owned the original land where Stonecroft now sits. Their homestead is being renovated as a local historical site. Local legend says that General Cornwallis even made camp here during the American Revolutionary War. This shows that the land has been desirable for many years.
In the past year, homes in Stonecroft have sold for between $895,000 and $1,670,000. As of June 20th, there are 3 homes on the market with one under contract. These homes are listed between $895,000 and $1,095,000.