Built in the 1990s by Toll Brothers, the upscale neighborhood of Providence Manor has everything a family could want and Matthews tax rates!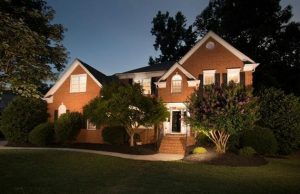 Located at Highway 51 and Reverdy Lane, Providence Manor is at a great location near South Charlotte for access to Ballantyne, SouthPark or downtown Matthews for shopping, work or daily errands and dining out.
Homes in Providence Manor are located on large, mature lots. Home sizes vary, but most of the homes in Providence Manor are 3,000 square feet and larger built of brick or hard-coat stucco. The neighborhood is a network of cul de sacs, many of which back up to wooded areas. Adjacent to the west is the neighborhood of Hembstead.
Residents are zoned for Providence High School and Elizabeth Lane Elementary School, which are within walking distance. South Charlotte Middle School is further west on Highway 51 just past the Arboretum Shopping Center.
Currently, there are no homes on the market in Providence Manor and only 7 sold in the last 12 months for an average sales price of $488,629. Adjacent Hembstead has just 2 homes currently on the market. The average sales price in Hembstead is $565,786 for the 14 homes that sold in that neighborhood during the last 12 months.
The highest and lowest sold price in Providence Manor was $584,000 and $370,000, respectively. Homes sell for an average 3.2% off of list price at about $114 per square foot.
Home inventory on the market averages 3 months in Matthews and 3.6 months in Mecklenburg County.
Spring time is not far away, and the real estate market will start to heat up. If a family-friendly neighborhood in a fantastic location is what you want then keep an eye on Providence Manor!