Ballantyne in Charlotte North Carolina
Check out Ballantyne's great real estate and homes for sale.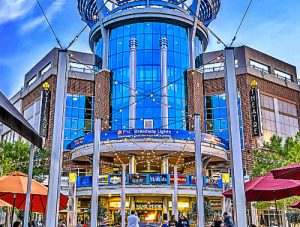 Ballantyne, a master planned community in South Charlotte, sprung up out of farmland in the early 1990s. Ballantyne spans 2,000+ acres across Mecklenburg County's southern tip, bordering South Carolina to the south & I-485 to the north.
The Ballantyne area was originally owned and then developed by the Bissell/Harris family. This developer also developed one of Charlotte's most popular live/work communities, SouthPark.
The residential portion of Ballantyne was sold to Crescent Resources for residential development while the Bissell Companies developed the commercial side, including most of the hotels on the sprawling acreage. Homes in this area include a wide range of suburban, townhome, estate and multifamily homes.
The Ballantyne Village serves as the anchor for the rapidly growing community shopping and social gathering center.  Ballantyne Hotel & Ballantyne Country Club anchor a widely growing mid-rise office market, now with over 4 million feet in Class A office space, Ballantyne is rapidly growing into an edge city of it's own. Major companies include MetLife, Snyders-Lance, Babcock & Wilcox, Tree.com, SPX and ESPN studios where the SEC broadcasting is based.
Much like the identity art found at Trade & Tryon in Uptown, the intersection of Johnston Rd. and Ballantyne Commons Dr. play host to four 30 ft tall monuments, dedicated to transportation, technology, finance, and the human spirit of Charlotte.  Adding this art to the entrance of Ballantyne, The Bissell/Harris plan left a visual reminder of what they wanted this place to be.
Ballantyne Real Estate & Homes For Sale
If you are looking for a great home, Ballantyne is a community as well as a place to live. Our resident Ballantyne agents can assist you on the ins-and-outs of the real estate market, which often can be frustrating to navigate on your own. After all, it's one of your biggest investments! Whether you are a buyer or a seller, it's wise to chose a real estate broker you are comfortable with and can trust. Give us a call or chat with us today if you would like more information on any homes you see here.