SouthPark Charlotte NC
Homes for Sale In SouthPark Charlotte, NC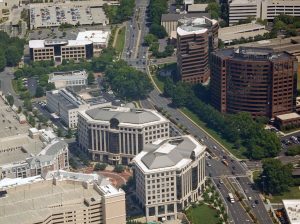 The land SouthPark sits on was once part of a 3,000+ acre farm owned by then N.C. Governor Cameron Morrison. Today, his land has been transformed into one of NC most successful live/work/play communities.
Gov. Morrison's farm originally stretched from the Cotswold area to Quail Hollow. His home, The Historic Morrocroft Mansion, built in the 1920's, still remains in SouthPark today on it's original site. The 14,000 sq ft mansion is listed in the National Register of Historic Places and was owned by the Morrison/Harris family until 1981. Today, the home remains as an amazing restored private residence.
Living in SouthPark allows you access to some of the South's best shopping, dinging and entertainment. The neighborhood's core is built around SouthPark Mall and development is densest near this popular mall.
Housing styles range from 1950's ranch homes to multi-million dollar estates, some tucked in very closely to the commercial district. Neighborhoods in this area continually rank as some of the best and most attractive areas in the South. Quail Hollow, Carmel Park, Foxcroft, and gated communities of Morrocroft and Seven Eagles neighborhoods are simply stunning examples of Southern charm.
The Harris YMCA, located at Sharon and Quail Hollow Rd, is also a legacy of the Morrison/Harris family.  Additionally, SouthPark is known as the second-largest business district in the state (developed primarily by the Harris family as well as the Bissell family), employing over 40,000 workers.  Southpark features stunning examples of suburban high rise buildings built around a unique live/work concept that is spreading throughout the area. Be sure to check out the Rotunda with its dramatic fountains next to Symphony Park and SouthPark Mall or the quiet nooks of shopping and dining areas in and around the Mall. Several major hotels are also located in SouthPark.  Some would compare SouthPark to Atlanta's Perimeter Center area.
SouthPark Mall is known as the best shopping destination in the city, and well known regionally. This Mall is considered upscale with over 100 fabulous stores such as Dillards, Belk, Nordstrom, Neiman-Marcus, Macy's, Pottery Barn, Crate&Barrel, Ann Taylor, Tiffany's and Finks Jewelers (just to name a few). If you love shopping, you must experience SouthPark Mall.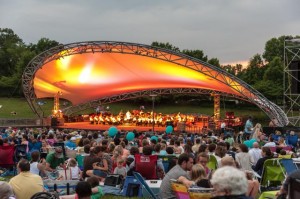 SouthPark is home to a newer, upscale shopping plazas including Phillips Place, home to a Dean & Deluca's, the prestigious Palm Restaurant, and a host of other shops and restaurants, as well as a movie theater. New developments are being added all the time including the Capital Towers, The Colony revelopment, the Sharon Methodist land redevelopment, and several other major developments in the area. In it's short history, SouthPark has clearly become an amazing live/work/play community.
SouthPark Mall is also the home of the amphitheater which hosts Charlotte Symphony's Summer Pops concerts, a popular evening event that are free to attendees, and the concert venue hosts lots of different events, ranging from concerts, charity events and food and drink festivals.  SouthPark is the home to several Fortune 500 companies such as Nucor, National Gypsum, Coca-Cola Bottling Company, Consolidated, Piedmont Natural Gas and J.A. Jones Construction Company.  Maersk, Bank of America Mortgage, First Citizens Bank, and CSX have major divisional operations located in SouthPark as well.
SouthPark Real Estate & Homes For Sale
If you are looking for a great home, SouthPark is an amazing live/work community. Our agents can assist you on the ins-and-outs of the SouthPark real estate market, which often can be frustrating to navigate on your own. After all, it's one of your biggest investments! Whether you are a buyer or a seller, it's wise to chose a real estate broker you are comfortable with and can trust. Give us a call or chat with us today if you would like more information on any homes in SouthPark you see here.