A new two story Starbucks is underway at the corner of Sharon Road and Fairview Road right in front of the Sharon Square mixed use development. They are going to boast outdoor seating, beer and wine selections and will be open late night. This is great news for surrounding neighborhoods. You can still get your morning cup of coffee in the drive through. They will also have wifi if you need to work during the day, but they are going to offer those same services plus alcohol for the night owls.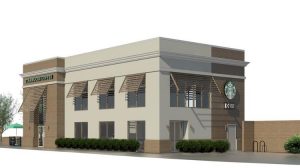 If you visit the area and fall in love with all it has to offer, from SouthPark mall, to symphony in the park, to great restaurants, to the village feel, take a look at Foxcroft. Luxury living at its finest is just around the corner and convenient to everything you will ever need.
Foxcroft has long been one of Charlotte's most desirable neighborhoods. In fact, AreaVibes.com just listed it in the top 10 most liveable neighborhoods in the Charlotte area. It's not surprising when you take into account the location, the mature trees and landscaping, the award winning schools, the high graduation rates, large homes on large lots, luxury features and beauty of the area. Homes here range between $500,000 and $2.5 million. There are historical homes and homes that have been completely remodeled, and ones that have been built brand new so there is something to appeal to every buyer.
Bordered by Providence Road, Sharon Road, Fairview Road and Sharon View Roads, Foxcroft is home to Foxcroft Hills Swim and Racquet Club, Sharon Elementary School, and McMullen Creek.
In the past year, homes in Foxcroft have sold for between $730,000 and $2.175 million. As of August 15th, there are 15 homes on the market, with 5 currently under contract. They range from $720,000 for a 5 bedroom, 2.5 bath home with 3,024 square feet, to $2.595 million for a 6 bedroom, 7.5 bath home with 6,833 square feet.
If you or someone you know is looking for a home in Foxcroft, please contact one of our Realtors to help you find the best one to suit your needs.