Great neighborhoods are all around Montclarie and Montclaire South. Madison Park, Starmount, Barclay Downs, Colonial Village, Beverly Woods, Myers Park, Dilworth, Quail Hollow and more are all really close. SouthPark Mall, Park Road Shopping Center and Montford are just down the road, and the airport is really convenient. Originally developed in the 1960's and 1970's, the Montclaires have some of the most affordable housing in Charlotte today.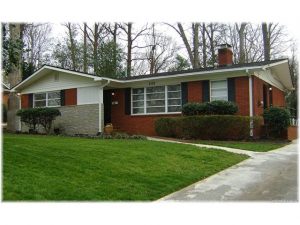 This area is really up and coming and with the Lynx Blue Line allowing you to travel around the city without a car, this area is becoming more attractive all the time. Archdale, Scaleybark and Tyvola stations are convenient for walking, or park n' ride. The trains can get you uptown while you catch up on work, read a book, or listen to music making for a painless commute.
Montclaire South is roughly bordered by Old Pineville Road, I-77, Arrowood Road, and Woodlawn Road. Montclaire is roughly bordered by Tyvola Road, South Boulevard, Archdale Road, and Little Sugar Creek.
Together, these neighborhoods are close to all the amenities you need. Both are centrally located with two large parks. Ramblewood Park is a 93 acre park with soccer complex, basketball courts, playground, picnic facilities and walking trails. Archdale Park is 16 acres with a multi-purpose field, basketball court, picnic facilities, woods, and playground. Park Road Park and Marion Diehl parks are just outside of Montclaire and offer many more options for outdoor adventuring.

There is a homeowner's association that helps organize the neighborhoods. Membership in the HOA is voluntary, but is a great way to get to know your neighbors and to stay on top of local news. With over 700 homes, The two Montclaires have tons of potential.
Growing families and young professionals all love Montclaire and Montclaire South. Homes here range from ranch, to split-level, to mid-century modern. Most homes have between 3 and 4 bedrooms and 2 to 3 bathrooms. Most are between 1,100 and 2,500 square feet. Homes have sold in a wide range from $125,000 to $385,000. There is even a completely remodeled home currently under contract for $416,500.
If you are interested in buying a home in Montclaire or Montclaire South, give us a call at (704) 525-4045. You can also view listings on our website here.