Over 40 years ago, the Village of Raintree was developed. Originally it grew up around Raintree Country Club offering views of the golf courses and anchoring the neighborhood. Since then it has added several neighborhood homeowners associations which still operate independently. Each neighborhood has it's own character and history, but they all work together beautifully. Raintree, Deerpark, Raintree South, Raintree Greens, Raintree Lakes, Timberidge, and Williamsburg are all a part of the Village of Raintree.
Bordered by Ballantyne Commons Parkway, Providence Road and Highway 51, Raintree is in a really convenient location. Shopping is close by with the Arboretum, Stonecrest at Piper Glen, Providence Commons, and SouthPark Mall close by. A commute to Uptown Charlotte is only 12 miles away. Homes in Raintree are zoned for some of the best schools in the region with the highest academic performance. There are also many private school options close-by.   

There are a myriad of benefits to being part of the Village of Raintree. Residents have access to Raintree Country Club including two golf courses, tennis complex, clubhouse with dining and banquet services, restaurant, pool, and fitness center. Raintree Country Club also offers recreational programs for all ages. Many homes qualify for waived initiation fees so residents would just need to pay membership dues. Residents also enjoy neighborhood amenities including athletic fields, basketball courts, bike paths, community center, fishing, fitness center, pool, tennis courts, picnic areas, playground, multiple ponds, woods, creeks and more.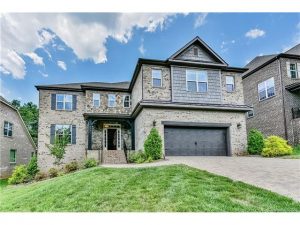 Homes in Raintree have varying style from contemporary, to two-story, to ranch, to colonial, and traditional. There are around 1,000 condos, townhomes, and homes within the community. Prices start around the $150,000's and have sold for as much as $610,000. This diversity means there is something for everyone here. Many of the homes have views of the country club and golf courses. Many of the homes here have been remodeled to stay with current trends.
With Raintree's park-like setting and stellar amenities, it's no wonder it has remained popular since it began in the 1970's. If you are interested in a home in Raintree, give us a call at (704) 525-4045. You can also view homes in Raintree on our website here.