If you are looking for a full or partial brick established home with traditional styling for around  $400,000,  Williamsburg in desirable Ballantyne could be the right place for you. Williamsburg is located between Rea Road and Ballantyne Commons Parkway just 2-3 minutes south of I-485. This area is host to fine dining, entertainment, shopping, fitness locations, and great grocery stores. From Williamsburg, you can be Uptown in 20 minutes, or in Lake Wylie in the same amount of time.
With around 450 residents, you won't feel lost in the shuffle like you might in some of the larger neighborhoods in Ballantyne. Williamsburg has a homey feel and neighbors are friendly and kind.
Williamsburg is currently zoned for much sought-after public schools of Polo Ridge Elementary School, J.M.Robinson Middle School and Ardrey Kell High School. All three schools are rated 10 out of 10 stars by Carolina School Hub. Williamsburg is also close to many private schools such as Charlotte Latin, Charlotte Catholic School, United Faith Christian Academy, and The British American School of Charlotte.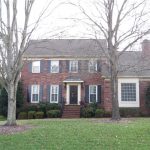 Homes in Williamsburg typically have around 4 bedrooms, 2 full bathrooms, 1 half bathroom, and close to or slightly over 3,000 square feet. In the past year, homes in Williamsburg have sold for between $307,500 and $415,000.
As of August 24th, there are 5 homes on the market in Williamsburg with 3 under contract. The first of the remaining two is a 4 bedroom, 2 full bath, 1 half bath home with 2,858 square feet on .42 acres. This home features a large wooded backyard, large bonus room, cul-de-sac lot and downstairs master. List price on the first home is $360,000. The second home is a 4 bedroom, 2 full bath, 1 half bath home with 2,770 square feet on .38 acres. This home was renovated in the last year and is listed for $425,000.
Search Homes In This Neighborhood