Selwyn Park is a small neighborhood located where Park Road meets Seneca Place. It is just east of Madison Park and residents can walk to Park Selwyn Terrace shopping center. Homes here are small and affordable, perfect for a starter home, or for someone looking to downsize.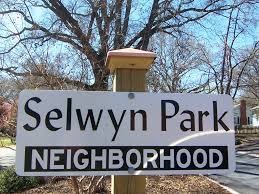 Built just after WWII, Selwyn Park was originally built for young families after the war. Homes here range between 1,000 and 1,500 square feet. Many of the homes have been updated, but many of them retain the original character of the 1940's with hardwood floors, telephone nooks, wide baseboards and more. Most homes have three bedrooms and 1-2 bathrooms.  
Selwyn Park boasts an active neighborhood association which organizes a large block party each year. As it is a small neighborhood, most neighbors know each other so there is a great sense of community. It is not unusual to see a neighbor at Park Road Shopping Center, at a restaurant in Montford, or at nearby SouthPark Mall.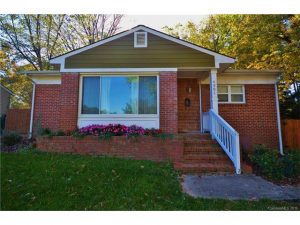 Marion Diehl Park is just across the creek with entrance from Tyvola Road. The park is a great place to gather for a playdate, or to get some fresh air and exercise after work. Further down Tyvola Road is Park Road Park, a larger park with even more outdoor activities. Also close by is Freedom Park with it's amazing paved paths around the pond and access to the Little Sugar Creek Greenway.
All of these amazing features of Selwyn Park are great, but there is also Light Rail really close at Woodlawn and South Boulevard. This makes an Uptown commute a breeze. The light rail will also connect you with nightlife in SouthEnd Historic District, and shopping in Pineville. Look for future lines to connect North to the University, and East out to Matthews.
In the past year, homes in Selwyn Park have sold for between $150,200 and $360,000. If you're up for some sweat equity, you can find a diamond in the rough here. Alternatively, you can find a fully updated home for a great affordable price.
If you are interested in learning more about Selwyn Park, give us a call at (704) 525-4045. You can also view listed homes in Selwyn Park on our website here.